What the f*** is #beforetomatojuice?
Discover the world. Experience the new and unknown. Find yourself on each journey you take. You don't have to wait anymore. The journey begins now: #beforetomatojuice!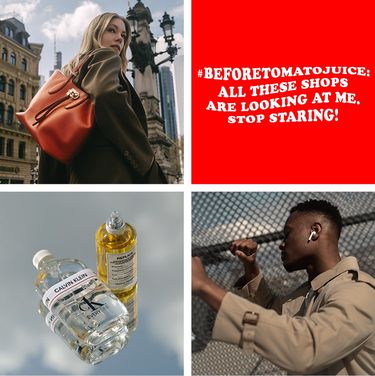 Up to date and up in the air: Come on board!
Still grounded but already flying high: #beforetomatojuice is your remedy against wanderlust. Seek inspiration and discover the hottest trends and exclusive news about all things fashion, food and lifestyle on the Instagram channel @beforetomatojuice. Take the world home – whenever, wherever.
It's back: Click & Collect
How about shopping online and picking up your purchase at the airport before your next in-flight tomato juice? We're colleting your items and prepare everything for you. Then let's go! Discover our wide range of products and brands already online and click through exclusive editions.
Order, pick up, save time and take off! Give it a go now!
Be ready for take-off!
Hungry for more adventures than ever before? All gourmets and city shopper can get travel editions to take-off, taste wine from all over the world and buy exclusive sizes – 24/7 on our website. Let's go on a journey and discover your favorite brands.
Check in and take on the world at Frankfurt Airport
You've got your ticket and you're ready to check in? #beforetomatojuice takes your excitement to a whole new level! Start your journey long before the first tomato juice on your flight – with more than 300 shops at the airport. Make the way to your destination a journey in itself.
 We're showing you a world full of inspiration, a place where everything is possible – before the tomato juice. Are you ready? Let's take on the world together: #beforetomatojuice.