Bottega
Bottega has a history of 4 centuries in the world of wine and grappa. Since the 17th century, when our ancestors cultivated the vine as tenant farmers, up to now, with Bottega wines, grappa and liqueurs being appreciated all over the world thanks to the passion of the family and to the innovative, original recipes. Artisan style and connection with the territory make Bottega products unique and unrepeatable elsewhere.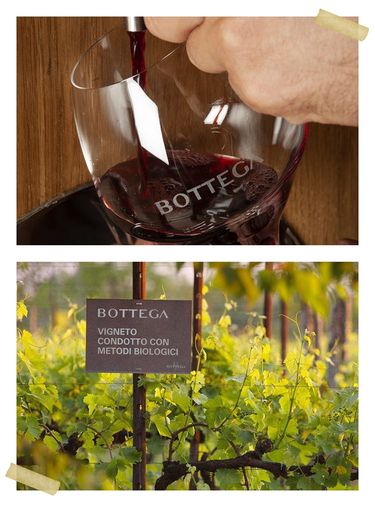 The Italian Grandezza - BOTTEGA.
The headquarters of Bottega are situated in the heart of the Prosecco area, where Bottega produces sparkling wines, grappa, craft spirits and liqueurs using unique ingredients, processed in a simple way and with artisan care. In Valgatara (Verona) Bottega produces red wines such as Valpolicella, Ripasso and Amarone, in Montalcino the renowned Brunello di Montalcino and in Chianti the typical red wines of the area.
The commitment to sustainability is paramount: Bottega recycles siliconised paper, uses dark bottles made from at least 50% recycled glass, chooses water-based paint for metallised bottles, follows organic farming criteria in our vineyards, and incorporates recycled ocean plastics. Additionally, Bottega has made significant strides in reducing our consumption of electricity, detergents, and water in the past year. Crafted with artisan care, all products are made with unique ingredients and reflect our unwavering dedication to quality and sustainability.